Burnt out in-house HR professionals, you're not alone in your struggles, and I'm here to support you. I've walked in your shoes, juggling the demands from all sides, leaving little room for proactive initiatives. I understand that sometimes it feels like there's just too much "stuff" to handle.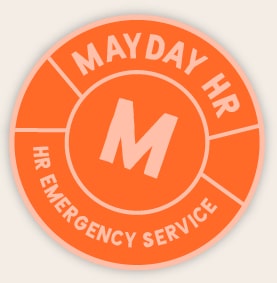 Navigating Problematic Waters
Often, it's the persistent problem employees who monopolise your time and disrupt harmony in the workplace. You might be part of a busy HR team or a lone HR warrior, facing an ever-growing pile of tasks.
If your heart sinks when a grievance lands on your desk, fear not. You don't have to reach for expensive legal solutions. Mayday HR is here to provide you with expert advice and support, including:
Handling Disciplinary and Grievance Cases:
Taking the helm or standing by your side, guiding you through the process.
Expert support to ensure fairness and compliance.
Navigating conflicts with sensitivity and neutrality.
Building expertise within your HR team across various areas.
Maternity Leave Processes:
Ensuring a smooth and compliant journey.
Consultations on Complex HR Matters:
Including redundancy, contract changes, TUPE, and restructures.
Strategies to elevate individual and team performance.
Managing terminations with care and legal compliance.
Advice on Employee Relations:
Addressing any intricate employee-related issues.
Streamlining management and support.
Mayday HR can work alongside you, offering guidance as needed, or provide comprehensive end-to-end support for any case you face. Helping you navigate the complexities of HR with confidence.
Navigating Problematic Waters
It's important that the service you get from Mayday HR is personal to you and your business. Please book in a no-obligation, free of charge discovery call to find out more about how I can help you, and what costs and payment options are available.
Spread the cost and sleep soundly knowing there is someone at the end of a phone when you need it. You will have access to support on an ongoing basis, with flexible pricing options suited to your business requirements.
Perfect if you need help with a particular issue or if you need to ask quick question. You can still make contact whenever you need to, with work charged at an hourly or daily rate that gives you support right when you need it.
This is ideal if you have a specific project or piece of work that needs completing. Once we have discussed the scope of the work, you'll know the cost up front so you can budget accordingly. 
Transforming SOS Calls
into Success Stories!
I had the pleasure of working with Sarah when we were taking our first steps towards hiring an employee. It was a dark area of unknown for me, so I needed an expert who understood that we were small and feeling our way. Sarah was like a shining light through all of the unknowns. At the end of our meeting we had a full idea of what we needed to do, what we didn't have to worry about, and how long it was all going to take.
Since then, Sarah has advised us countless times, checked over our job advert and drawn up an employment contract.
I am going to avoid platitudes, suffice to say, we have an HR company looking after us now, and of course it is Mayday HR. If you are considering speaking to an HR person, then stop right now and speak to Sarah. It's not just hat you won't regret it, it's that if you don't you'll never know peace of mind like it.
As a young entrepreneur, with no prior experience of hiring and maintaining a team, being able to discuss things with Sarah has taken a huge weight off my mind. She not only explains every decision making process, followed by the correct procedure, she also adds a personal touch. By explaining what she might do and what outcomes could come of that. She also strives to understands my business and my needs, before working on possible solutions and then offers tangible options/outcomes.I highly recommend working with Sarah, whatever journey you may be on. My team have been much happier since working I've worked with her! Thank you Sarah!
~ Helena Traill, nooh studio
Not only is her HR knowledge unrivalled but her patience, support, and teaching has proved invaluable to our business. Sarah has helped us with everything: from crafting improved policies and contracts, which reflect our people-centric agency in the best way; through to coaching us through difficult situations and ensuring we could be compassionate as well as compliant. Thank you, Sarah!
Sarah took the time to understand our line managers' challenges, crafting a personalized training session that aligned with our policies and goals. She led an engaging training day where managers learned about effective leadership, meaningful conversations, and how their actions impact employee experiences. With newfound skills, our team is now better equipped to address performance issues early on. The result is a more confident and capable team, eagerly awaiting the next training opportunity